Ursa Minor planetarium and telescope controller program
About Ursa Minor program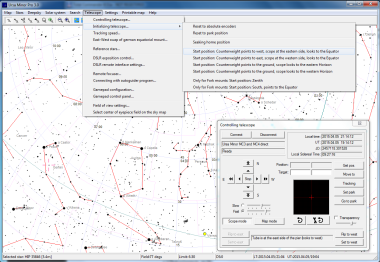 Ursa Minor is a powerful, accurate but easy to use planetarium program. It provides an excellent way to explore the night sky, prepare observing sessions, or getting informations about celestial objects. The program is available in three different editions (Hobby, SkyTour and Professional) to suit your interest level. Check the feature comparison table to decide which edition is the one for you.
Most popuplar is the

Professional

version. It has more complex functions for advanced observers and astronomers. This program has extended star database up to 18th magnitude, and can control even heavy-duty telescope mounts.
The

Ursa Minor SkyTour

is a simplified version clearly targted for beginners using small telescopes with aperture around 9 - 10 centimeters. Its database is reduced, but contains all the stars and deepsky objects can be viewed with small telescopes from a suburban area. This program can control the small and portable Skywatcher Autottrack telescopes and Multi-functional photo mounts. With these telescopes the program can present a real sky tour for you! Larger telescope mounts are not supported in this version. If you are interested in them, please choose the Professional version.
The

Ursa Minor Hobby

is similar to the SkyTour version, but it cannot control telescopes. This version is useful for beginners and children.
The program can display the night sky as can be viewed from the Earth from any position and at any time. The map can be easily positioned, zoomed, and you can use flexible search functions to locate any kind of celestial objects such as stars, variable or double stars, deepsky objects or planets of Solar system. The map can also be printed for observations, even in mirrored or rotated mode for several types of telescopes.
Why Ursa Minor is a perfect choice for you
With Ursa Minor you can:
Have high quality, and highly detailed printable sky maps
Control your telescope easily, without additional software (drivers, etc...)
Locate any kind of celestial objects, such as variable stars, planets, deepsky objects, etc...
System requirements
To use Ursa Minor, you need a computer that meets following requirements:
Windows 2000, Windows XP, or Windows Vista operating system
Pentium II Celeron processor @ 500MHz. Pentium 4 recommended
128 Mb memory, 512 Mb recommended
600 Mb free Hard disk space
At least 1024 x 768 display resolution
Comparison between editions
Function
Hobby
SkyTour
Professional
Magnitude limit (stars)
11.5 mg
11.5 mg
Depending on catalogue, cca. 20 mg
Number of double stars
1000
1000
47000
Number of variable stars
300
300
45000
Number of deep-sky objects
500
500
78000
Generating printable map
Max. pagesize: A/4
Max. pagesize: A/4
Unlimited pagesize
Star Hopping
+
+
+
Drawing position of planets
+
+
+
Drawing planet tracks
-
-
+
Drawing comets
-
-
+
Drawing minor planets
-
-
+
Cross identification between star catalogs
-
-
+
Displaying detailed data for different celestial objects
-
-
+
Controlling goto telescope mounts
-

SkyWatcher Autotracking
Multifunctional photo mount

Skywatcher EQ3, EQ5, HEQ5, EQ6 goto versions

Working with autoguider program
-
-
Ursa Minor Pro can receive guiding signals from an autoguider program via a virtual serial port. These autoguiding commands will be sent to the mount on the similar cable that is used for goto controlling. The result is fewer cables and less troubles.